Alumina(Al2O3)
Alumina consists of oxidized aluminium and is the most popular among all fine ceramics.
High-purity alumina ceramic series is the ceramic material with Al2O3 content 99.5% and 99.9%.
Electrical Insulating properties
Wear Resistance
Heat Resistance
Corrosion Resistance
Plasma Resistance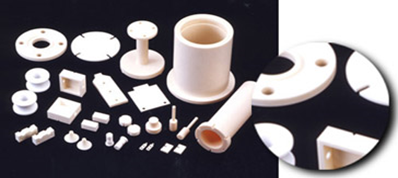 Main Applications
Semiconductor manufacturing equipment parts (chamber parts, insulation flanges, etching equipment parts, wafer chucks)
Crusher parts (classifiers, airflow type crushers, beads mills)
General Industrial parts (nozzles for laser processing machines, shafts, bearings)
High precision, heat resistant tool (positioning jigs, assembly jigs)
Wear resistant parts (wire drawing machine guide rollers, yarn paths, rails, guides)
Electrical insulation parts (insulators, spacers, bushes)
Features
Alumina is usually a white or cream colored ceramics.
Our lineup includes alumina with hight-purities of 99.5% and 99.9%. Due to its electrical insulating properties, from early on it has been used in various electrical components. Alumina is large amounts are used and it is the least expensive of all fine ceramics. It is also possible to manufacture large products, high purity type has high mechanical strength and excellent corrosion resistance. In addition, it is used for parts of CVD equipment and etching equipment because it is also excellent in plasma resistance.
Alumina
Material Code
Characte
-ristics
Density
Young's
Modulus
Flexural Strength
Fracture Toughness
Thermal Expansion
RT~800℃
Thermal Conductivity
Volume Resistivity
[g/cm3]
[GPa]
[MPa]
[MPa・m1/2]
[×10-6/K]
[W/m・K]
[Ω・cm]
ALP01


Alumina99.5%

General Purpose
High Rigidity
3.9
370
440
3~4
7.7
33
>1014
ALP02


Alumina99.9%

High Purity
High Rigidity
3.9
370
450
3~4
7.9
30
>1014