Silicon Nitride(Si3N4)
Silicon nitride (Si3N4) is a material with high fracture toughness and excellent thermal shock resistance, and in recent years it is also used as a substitute for molds.
Thermal Shock Resistance
High temperature strength
Wear Resistance
Corrosion Resistance
Electrical Insulating properties
High Fracture Toughness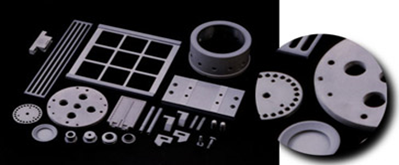 Main Applications
Molding mold parts (hot forging molds, various molds)
Casting parts (low pressure castings, various metal melting furnace equipments)
Die casting machine parts (plungers, sleeves, goosenecks)
Welding machine parts (guide pin for resistance welding, guide roll for steel pipe weldings)
Crusher parts (classifiers, airflow type crushers, beads mills)
Wear resistant parts (wire drawing machine guide rollers, motor shafts, bearings, fishing line yarn paths, wire drawing capstans)
Semiconductor manufacturing equipment parts (stage parts, linear motors parts)
Features
Silicon nitride (Si3N4) is a gray ceramics, it has excellent resistance to thermal shock resistance, and it has a property that it is comparatively hard to get wettability with molten metal.
By utilizing these characteristics, it is used for components used in harsh environments such as internal combustion engine parts of automobiles and torch nozzles of welding machines, especially in harsh environments.
In addition, utilizing high abrasion resistance and mechanical strength to utilize the bearing parts, shafts, bearings and even the effect of low dust generation to be used as parts of semiconductor manufacturing equipment which is required for a clean environment It is.
In addition, we have acquired trademark registration for silicon nitride SNP03 (HSTSiN®) of higher strength and higher reliability than conventional products.
Silicon Nitride
Material Code
Characte
-ristics
Density
Young's
Modulus
Flexural Strength
Fracture Toughness
Thermal Expansion
RT~200℃
Thermal Conductivity
Volume Resistivity
[g/cm3]
[GPa]
[MPa]
[MPa・m1/2]
[×10-6/K]
[W/m・K]
[Ω・cm]

SNP02

High Thermal Shock Resistance
Lightweight
High Strength
3.2
290
800
6
1.6
24
>1014

SNP03

High Strength
High Reliability
3.2
307
1030
7
1.6
36
>1014