Zirconia(ZrO2)
Our zirconia consists of partially stabilized zirconia (PSZ) in which 3 mol% is added to Y2O3.
The material particle diameter is small, high precision processing is possible.
High Mechanical Strength at room temperature
High Fracture Toughness at room temperature
Wear Resistance
Heat Insulating properties
Electrical Insulating properties
Thermal expansion similar to f metal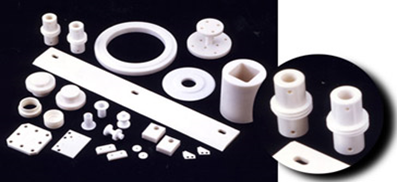 Main Applications
Molds / Tools (various molds, precision positioning jigs, insulating jigs)
Crusher parts (classifiers, airflow type crushers, beads mils)
Industrial knives (industrial cutters, slitters, platen rolls)
Optical connector parts (ferrules, sleeves, V groove jigs)
Special spring (coil springs, leaf springs)
Consumer products (compact insulated screwdrivers, kitchen knives, slicers)
Features
This material has high mechanical strength at normal temperature and excellent material fracture toughness. PSZ (Partially Stabilized Zirconia) has a small material particle size which allows high-precision finishing processing, and is put to practical use for precision machining parts such as molds.
Practical application in precision processed parts such as molds is increasing. It is also used for industrial cutters, optical connector parts, and grinding machine media. The high fracture toughness of PSZ (Partially Stabilized Zirconia) can be utilized for applications such as special springs and it can also be used as a material for household use ceramics knives and slicers.
Zirconia
Material Code
Characte-ristics
Density
Young's
Modulus
Flexural Strength
Fracture Toughness
Thermal Expansion
RT~800℃
Thermal Conductivity
Volume Resistivity
[g/cm3]
[GPa]
[MPa]
[MPa・m1/2]
[×10-6/K]
[W/m・K]
[Ω・cm]
ZRP01
High Strength
Wear Resistance
6.0
210
980
6
10.7
3
>1012