SA701 Details
High functional composite material in which SiC ceramic particles are uniformly impregnated with Al.
Features
With physical properties similar to ceramics and can be made into large size.
SA701→Support size over 1.5m × 1.5m
Ceramics limit Al2O3,SiC 1m×1m
*Relative to our company
High fracture toughness 8 MPa・m1/2
Create high fracture toughness ceramics by mixing
metals with ceramics (overcoming fragility).
Excellent thermal properties
Low thermal expansion→Lower than Aluminum,Iron : 7 x10-6/K
High thermal conductivity→Higher than SiC : 160 W/m・K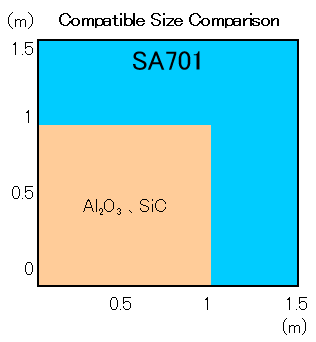 Basic properties
Material
MMC
Al2O3
SiC
SA701
Density (g/cm3)
3.0
3.9
3.1
Young's Modulus (GPa)
260
370
430
Thermal Expansion (x10-6/K)
7
7.7
3.1
Thermal Conductivity (W/m・K)
*160
33
140
Fracture toughness (MPa・m1/2)
8
3
3
*The above property values are not guaranteed values.
*Thermal conductivity of 180 (W/m·K) is also available as a heat radiation material application.


Manufacturing method

Applications
It is used for precision machinery or inspection equipment parts
that requires light weight and high rigidity, or that needs to move and stop at high speed.
LCD manufacturing equipments
Semiconductor manufacturing equipments
Crushing equipments
Heat sink parts
Environment and ECO field
Various production facilities


MMC are widely adopted in various fields.
Adopted Product Examples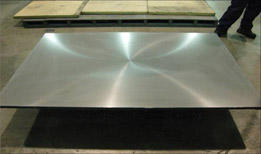 Lightweight high rigidity plate(For LCD manufacturing equipment)